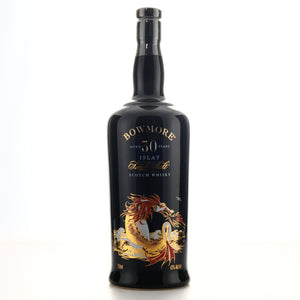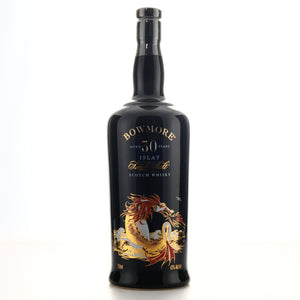 BOWMORE 30 YEAR OLD THE SEA DRAGON 75CL
The oldest distillery on Islay, Bowmore has been described as the Grande Dame of the island, and still has its own floor maltings which make up about 30% of its requirements. Its No. 1 vault is the oldest maturation warehouse in Scotland and the only one below sea level.
This wonderful whisky has attained near mythical status, so it seems entirely fitting that it's vessel bears the image of another mythical creature, the Sea Dragon!
Stirred from his thousand year sleep by Fionn mac Cumhail, known as Fingal, the sea dragon, Kranna Dubh, swam to the shore at Bowmore to do battle. It ended with Kranna mortally wounded by Fingal's magical sword, Mac a' Luin, his dark blood seeping into the waters.
It is said, when the sun sets, Loch Indaal turns red with his blood - and that local mothers scold their children severely, if they ever catch them pitching stones into the Loch. Gulp!