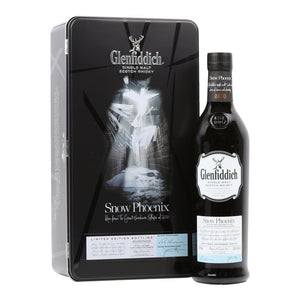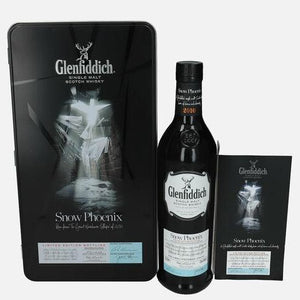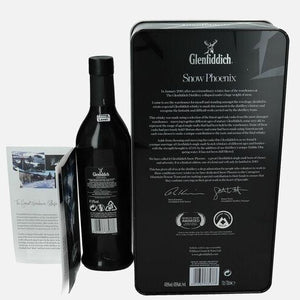 Glenfiddich Snow Phoenix
On the evening of 7th Jan after weeks of heavy snow, in a remote part of the distillery estate, a number of warehouse roofs collapsed under the weight
With the maturing casks exposed to the night sky & in wintery conditions & temperatures of -19C, distillery staff working round the clock to clear the snow.
Standing amongst the wreckage Brian Kinsman thought they would create a fantastic non-aged single malt.

Using whiskies from the damaged warehouses would be an appropriate way of celebrate the spirit of the distillery team at that moment in Glenfiddichs history.
Shifting snow also gave the distillery team admiration for those who work in extreme conditions & has dedicated Snow Phoenix to the Cairngorm Mountain Rescue Team.

A limited edition this single malt whisky is made up of many different ages of whisky, from 13yo to over 30yo

By marrying together natural strength & non-chill filtered casks of different age & finishes, including American oak & Oloroso sherry

One of the most exciting & unexpected releases in Glenfiddich's history born from those events in January 2010 & created from The Great Warehouse Collapse

Colour
Gold with bright copper highlights.

Nose
Creamy vanilla aromas mingle with vibrant notes of apple and pear - the whole complemented by the scent of fresh blossom.

Taste
This is Glenfiddich in the wild apples roasted in the embers of a campfire, sweetened with heather honey and ccompanied by a piece of chocolate, rich and complex with a whiff of burned sugar, coffee and woodsmoke.

Finish
An exceptionally long finish - austere sherry notes mellow into a satisfyingsweetness.