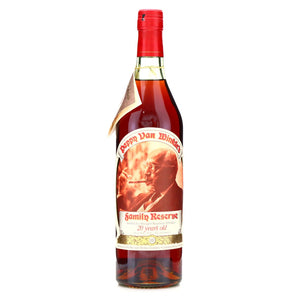 Pappy Van Winkle's 20 Year Old Family Reserve
The Old Rip Van Winkle brand was a pre-prohibition bourbon label, revived by the Van Winkle family after they were forced to sell their Stitzel-Weller distillery by its board of directors. New owners, Somerset Imports, granted Julian Van Winkle II (son of the famous 'Pappy') the continued use of an office at the distillery, and first option on purchasing casks to bottle his new brand with. When he died and the business passed to his son, Julian III, this courtesy was no longer extended, and he moved bottling to the old Hoffman distillery in Lawrenceburg in 1983, renaming it Old Commonwealth. He was still able to buy Stitzel-Weller stock though, and introduced the famous Pappy Van Winkle range in homage to his grandfather, using well-aged barrels from the distillery the now-legendary figure once so lovingly ran. When Stitzel-Weller was closed down by United Distillers in 1992, it was only a matter of time before stock would run out. This necessitated a partnership between Julian Van Winkle III and Buffalo Trace distillery in 2002, seeing all bottling move there, initially using the remaining Stitzel-Weller barrels, with these eventually replaced by Buffalo Trace distilled stock. The product from all eras is revered, and the brand is considered to be the first premium bourbon line to have been produced in the US.
The 20 year old has become quite legendary, particularly after the theft of 65 three-bottle cases in 2013. It is also the expression which first brought the Van Winkle brand to prominence after being awarded an unprecedented score of 99 at the Beverage Testing Institute in 1996.
This is one of the earliest examples of the 20 year old, introduced in 1994 and produced in this light green bottle until 1999 when Van Winkle switched to clear glass. The 1994 bottling of the 20 year old Family Reserve was produced using a high-rye bourbon from Boone distillery, however casks from Stitzel-Weller would have been used later in the 1990s.